Join the UNC Program for Precision Medicine in Healthcare (PPMH) for a virtual mini-symposium on Wednesday June 30th from 1:00 to 2:45pm. At this interactive event, you will engage in discussion with leading Precision Medicine researchers at UNC. Presenters will explore the complex relationships between where people live and work and their health.
Find out more »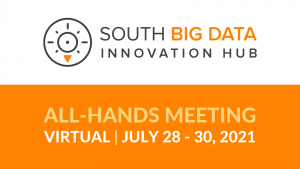 Bringing People and Data Together Join big data influencers from industry, academia, nonprofits, and government to discuss some of the most important topics in data science today: Building Data Science Education and Workforce Promoting Data Sharing and Cyberinfrastructure Addressing Societal Challenges Connecting the Data Community The South Big Data Hub has spent the last five years connecting with people and developing programs to move data science forward in remarkable ways, and we can't wait to share what we've learned with…
Find out more »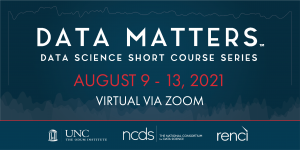 Data Matters™ is a week-long series of one and two-day courses aimed at students and professionals in business, research, and government. The short course series is sponsored by the Odum Institute for Research in Social Science at UNC-Chapel Hill, the National Consortium for Data Science, and RENCI. Data Matters gives students the chance to learn about a wide range of topics in data science, analytics, visualization, curation, and more from expert instructors. Registration is now open; reserve your spot now!
Find out more »