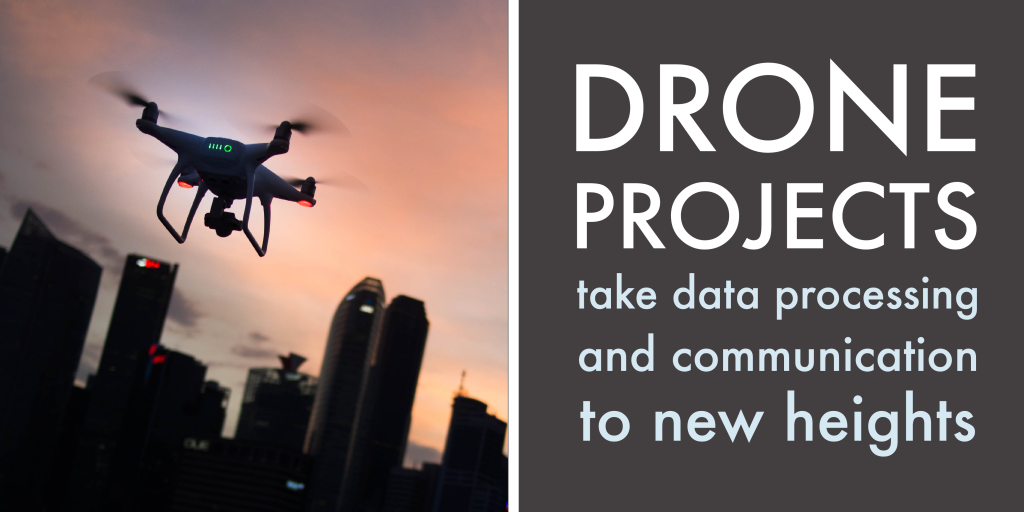 Communicating after a natural disaster is often critical but can be challenging if telecommunications lines are damaged or wireless networks become overwhelmed. Drones, however, can be used to quickly create an on-demand communication infrastructure that is not only useful for emergency situations but can also be used for transportation, surveillance and crop monitoring.
RENCI researchers are contributing to cutting-edge research projects that aim to make drones even more useful by improving how their data is handled and by providing a testbed that helps researchers optimize drone-based communication.
On-the-fly data processing
RENCI researchers are collaborating on the NSF-funded FlyNet project that will enable scientists to better use drones in complex applications such as video analytics. Latency is a critical problem when drones are used to perform real-time, data-intensive tasks such as analyzing video of a disaster area or processing information from weather sensors to determine flight paths.
Led by the University of Massachusetts Amherst, FlyNet aims to overcome this challenge by developing an intuitive network platform that allows different aspects of data processing to be handled in different ways.
"The project is examining how to use a distributed cloud network platform to support edge-to-cloud processing for drone applications," said Anirban Mandal, leader of the RENCI FlyNet team. "This helps solve the latency problem by allowing some of the data processing to be performed closer to the drone or on platforms like AERPAW while other computations can be performed on cloud platforms such as FABRIC."
FlyNet plans to incorporate several systems that RENCI helped develop. For example, FABRIC—a distributed system that combines a cloud system with high-speed optical links—will be used to move high volume data collected from the drones and cameras throughout the network. "We are also working to use application-centric programs to leverage new in-network processing capabilities offered by FABRIC so that they can be used for drone applications," said Mandal.
FlyNet researchers recently demonstrated a novel drone application that performs video analytics by offloading the analytics to the nearest edge server in-flight and leveraging the FlyNet architecture to access computing at the network edge and core cloud platforms.
High-flying communication
When developing new drone technology such as the FlyNet network, it's important that researchers have a place to try it out so that they can optimize the technology and figure out what challenges might arise in real-world scenarios.
RENCI researchers are helping to develop a new NSF-funded testbed called AERPAW, the first wireless research platform for studying how 5G technology can be implemented using autonomous drones. The five-year project is led by NC State University.
Though still under active development and deployment, AERPAW began supporting experiments from external users in late 2021. Since the announcement of its general availability on November 9, several groups have started to develop experiments using AERPAW. FlyNet researchers have been among the first external users to conduct drone flight experiments using the new testbed.
"As we look at 5G and beyond, researchers need a way to test new ideas, protocols and early implementations," said Yufeng Xin who leads the RENCI AERPAW team. "AERPAW allows researchers from different parts of the country to remotely access a shared testbed to study advanced wireless technologies supporting dynamic, mobile, and airborne networks."
Xin's team is drawing on its experience in developing other testbeds and expertise in software development to create a web portal and the backend control software that ensures AERPAW is shared safely by different users and managed efficiently by the testbed operational team.
"Even though the testbed is open, there are still many remaining development tasks left," said Xin. "For the software tasks that RENCI is contributing to, we will continue work to further automate the experiment workflow, enhance security and improve the user/operator's experience with the web portal and control software."
FlyNet is supported by a $749,998, two-year grant awarded by NSF (#OAC-2018074). It is led by the University of Massachusetts Amherst and includes scientists from RENCI, the Information Sciences Institute at the University of Southern California, and the University of Missouri.
AERPAW is supported by a $24 million grant awarded by the PAWR Project Office on behalf of NSF (#CNS-1939334). The project is led by NC State University, in partnership with Wireless Research Center of North Carolina, Mississippi State University, and RENCI. Additional partners include Town of Cary, City of Raleigh, North Carolina Department of Transportation, Purdue University, University of South Carolina, and other academic, industry, and municipal partners.