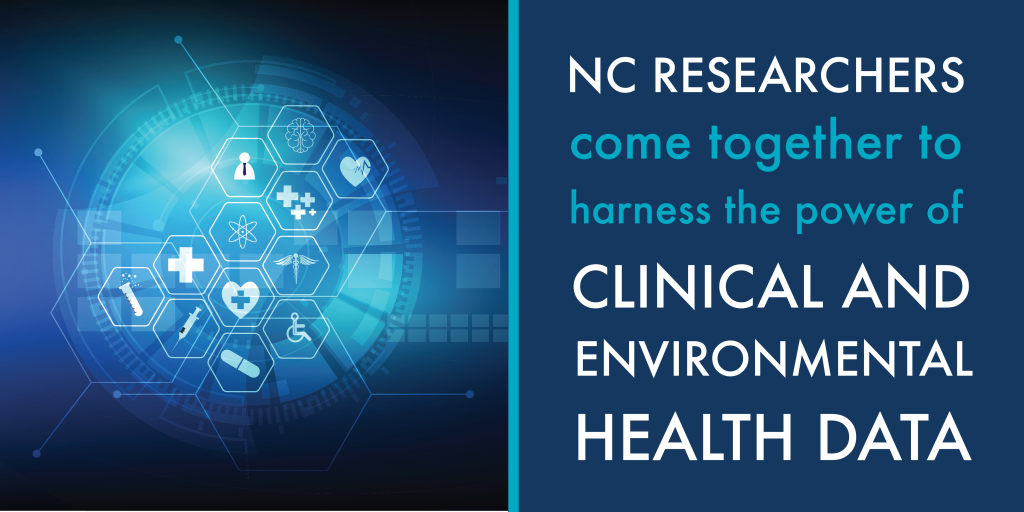 In an increasingly interconnected world, the integration of clinical and environmental health data holds immense potential for advancing research, improving patient outcomes, and shaping the future of healthcare. However, to truly make an impact on individuals and communities, institutional and scientific silos that hinder collaboration and resource sharing must be overcome.
Recognizing this challenge, Cavin Ward-Caviness, PhD, (US Environmental Protection Agency [US EPA]), Charles Schmitt, PhD (National Institute of Environmental Health Sciences [NIEHS]), and Karamarie Fecho, PhD, Ashok Kishnamurthy, PhD, and Sarah Tyndall (Renaissance Computing Institute [RENCI]) organized the inaugural Clinical and Environmental Health Data Workshop on Friday, May 19 at RENCI in Chapel Hill, NC.
"Pooling resources and expertise has the potential to catalyze groundbreaking research initiatives and identify previously unseen connections between environmental factors and human health outcomes," according to Ashok Krishnamurthy, PhD, director of RENCI. "We are thrilled to be able to come together with our partners at NIEHS and the US EPA to work collaboratively on these hard – but impactful – problems."
At the heart of this endeavor lies the ultimate goal of improving patient outcomes. By integrating clinical data, such as medical records and patient histories, with environmental data, researchers can gain deeper insights into the complex interplay between individual health and environmental factors. This holistic approach can lead to targeted interventions and personalized care plans.
The fusion of clinical and environmental health data not only benefits individual patients but also empowers communities. By leveraging integrated data, researchers and public health officials can identify environmental disparities, understand social determinants of health, and design evidence-based interventions tailored to specific communities. This knowledge equips policymakers with the tools needed to implement targeted interventions, allocate resources efficiently, and ensure the equitable distribution of healthcare services.
The half-day workshop brought together over twenty local scientists, healthcare professionals, and environmental experts from the Research Triangle Park (RTP) region to discuss the current state of the art and the work that still needs to be done to make these goals into reality.
The workshop began with several lightning talks where local leaders gave presentations on the tools, data, and methods in their research areas. Topics included:
Clinical Informatics: This presentation focused specifically on standardizing Electronic Health Records (EHRs), which are electronic file formats of medical records. Converting EHRs to a standardized model would allow their application for research and expand their reach beyond local and state boundaries to national, cross-institutional analysis.
Geospatial modeling: This presentation focused on various methods for modeling environmental exposures and subsequent population outcomes, which sparked a discussion on how additional factors, such as geography, could be included in the models and how to integrate with relevant exposure events.
Social and environmental determinants of health: This presentation focused on how to integrate EHRs with social and environmental data, which would provide a deeper understanding of how environmental exposure connects to health.
Community and public health: This presentation presented the complexities of public health issues and their solutions. An example was shown of how social determinants of health impact outcomes of environmental health hazards, and emphasis was placed on the need for team science to tackle these complex issues.
Public health surveillance: This presentation described a tool for surveilling public health data, The North Carolina Disease Event Tracking and Epidemiologic Collection Tool (NC DETECT). NC DETECT contains data from emergency departments, North Carolina Poison Control, and emergency medical services.
Data science and related tools: This presentation highlighted the NIH Strategic Plan for Data Science and NIH priorities around building a biomedical data ecosystem that supports data sharing. The NIEHS Climate, Health, and Outcomes Research Data (CHORD) project, funded by the PCORI Trust Fund, is intended to serve as an exemplar for geospatial-based climate data and tools.
Cyberinfrastructure and software applications: This presentation focused on the cyberinfrastructure that RENCI has been developing to support clinical and environmental health research. The emphasis was on the informed development of cyberinfrastructure designed to bridge gaps between geoscience models and their clinical and public health applications.
After lightning talks, the group divided into breakout sessions focused on two themes: identifying gaps in integrating environmental and social health data, and creating a list of shared resources that can be used to address those gaps.
During the wrap-up session, there was robust discussion on establishing a vision and cadence for future workshops. Ultimately, the group plans to hold regular workshops to establish regional leadership in clinical and environmental health research, ensuring that the needs of local communities and stakeholders remain central to future initiatives. By nurturing the partnerships forged at this and future events, North Carolina can play a vital role in shaping the future of healthcare, driving transformative change, and moving toward a healthier and more sustainable future for all.