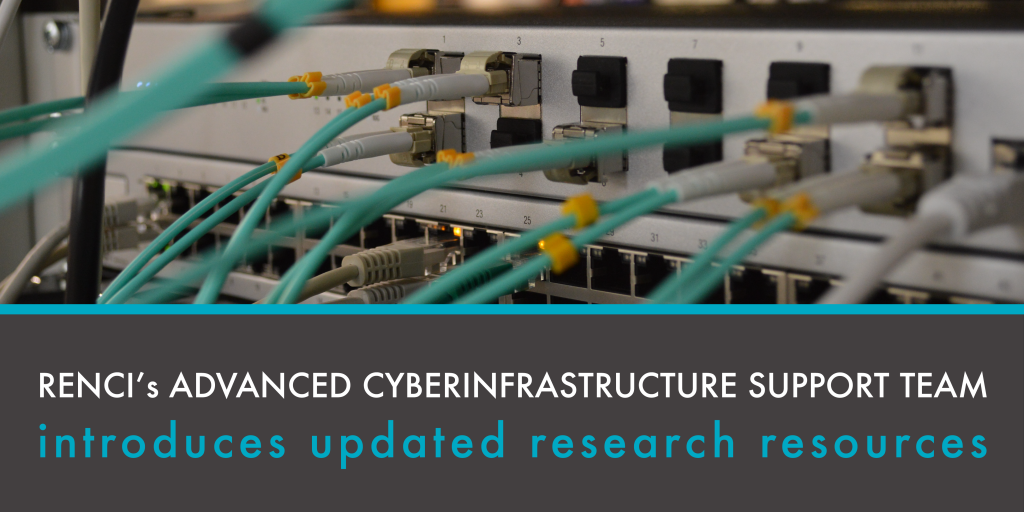 The Advanced Cyberinfrastructure Support (ACIS) team at RENCI works to provide efficient, available resources for our researchers. Over the last several months, the team has introduced several new capabilities and tools that support researchers in successfully producing results from their computing research.
New hardware, new features
RENCI has several hardware clusters in use to advance computing development, including the newest addition — the Sterling Kubernetes cluster. The Kubernetes system allows researchers access to multiple containerized applications across several computer servers at the same time.
"Kubernetes provides a great set-up for a quick turn-around in case of emergencies within a cluster," said Paul Linebaugh, DevOps Engineer at RENCI. "If an application is running a container in a server that goes down, Kubernetes will automatically start up the application in a new container on another server within the cluster."
Throughout this past year, the ACIS team has developed the Sterling Kubernetes cluster's features. The list of updates include automatic DNS and TLS certificates, enhanced security, GPU support, NVMe drives and many more. NVMe drives are the future of fast storage and bring significant writing speeds that are faster than the original storage settings. Updates will continue over the lifecycle of the cluster.
"Modern software can be complex, but a platform like Sterling can save a significant amount of time for our researchers by automating common tasks," said Mac Chaffee, DevOps Engineer at RENCI. "Sterling can subdivide its four enormous GPUs that are larger than any one user needs into smaller sections that can be assigned to individuals. We can meet researchers' needs at a higher scale now, since more staff at RENCI can benefit from the same set of hardware than ever before."
The updates to Sterling have allowed the ACIS team to sunset RENCI's legacy Kubernetes clusters — Blackbalsam and Mitchell. Since 2020, these clusters dutifully served as the workhorses of containerized operations for RENCI, providing resources to projects like HeLx and Translator.
In addition to the new Kubernetes development, the team has completed the first year of a two-year research effort to replace older components of the Hatteras High Performance Compute cluster. It now has newer and more powerful hardware, including eight GPUs and four large memory nodes.
Researchers have already benefited from the improved efficiency and user experience that the Hatteras refresh provides. The changes allowed the ACIS team to reconfigure the cluster's job scheduler to provide better flexibility on job placement, while reducing the overall processing time.
Tech support for a virtual world
The onset of the COVID-19 pandemic and the shift to remote work brought about many changes to RENCI's systems, including the introduction of new support tool Bomgar.
"When RENCI staff members went remote at the beginning of the COVID-19 pandemic, there was a need for a resource that would allow users to request technical assistance as quickly as in person," said Lance Leathers, Systems Specialist at RENCI. "Bomgar allows us to fully support RENCI staff working from home, regardless of whether their device runs Apple or Windows."
Bomgar has significantly increased efficiency for researchers requesting technical support at RENCI. within the new cluster. During a support session, staff members are easily able to use Bomgar to share their screen, demonstrate the problem at hand, and grant temporary control to ACIS support members for corrective action.
Moving forward
Over the next few years, the ACIS team will continue to seek new ways to allow RENCI's innovative solutions to flourish. These continuous updates will be for the advancement of all RENCI researchers.
"It is important for us to give everyone who uses our clusters and applications a consistent experience," said Nick Harrison, ACIS Manager at RENCI. "ACIS is working to take a lot of the services we've provided as stand-alone resources and consolidate them into centrally managed solutions. These advances will allow us to focus our finite resources and make services the best they can be for RENCI researchers."