Each year, the Supercomputing conference provides the leading technical program for professionals and students in the HPC community, as measured by impact, at the highest academic and professional standards. The program is designed to share best practices in areas such as: algorithms; applications; architectures and networks; clouds and distributed computing; data analytics, visualization, and storage; machine learning and HPC; performance; programming systems; system software; and state of the practice in large-scale deployment and integration.
Visit the RENCI in-person booth (#2619) at SC21 to learn about our collaborative research projects and cyberinfrastructure efforts aimed at helping people use data to drive discoveries. In addition to an in-person presence, RENCI will host a virtual booth, where attendees can browse through demos, presentations and materials from our wide range of projects.
Further information about visiting our virtual booth and attending sessions featuring our researchers can be found below.
---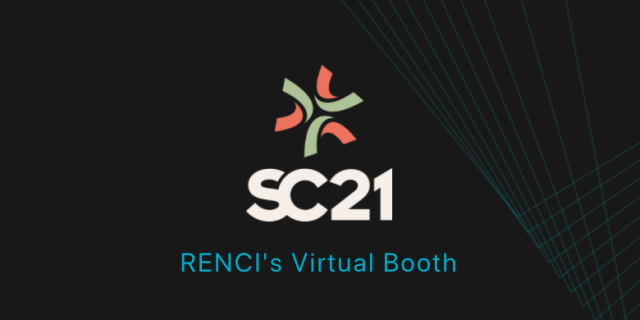 Visit RENCI's Virtual Booth
Every sector of society is undergoing a historic transformation driven by big data. RENCI is committed to transforming data into discoveries by partnering with leading universities, government, and the private sector to create tools and technologies that facilitate data access, sharing, analysis, management, and archiving. Our virtual booth highlights the newest advances from our researchers.
Our efforts in data science span multiple initiatives and domain areas, including:
The Networking and Research Infrastructure Group (NRIG) and its $20 million NSF grant, FABRIC, along with other major projects such as CI Compass, Poseidon, and Atlantic Wave-SDX.
iRODS, open source data management software used by research, commercial, and governmental organizations worldwide.
Cutting-edge health science research, including the NHLBI BioData Catalyst project, NCATS Biomedical Data Translator, and multiple translational science projects.
Earth Data Science solutions that address the intersection of high performance and high throughput computing with Earth research by utilizing computational tools such as the storm surge and wind-wave model ADCIRC.
National initiatives – such as the South Big Data Hub and the National Consortium for Data Science (NCDS) – that connect the data science community to each other and important resources.
Visit the virtual booth at sc.renci.org.
---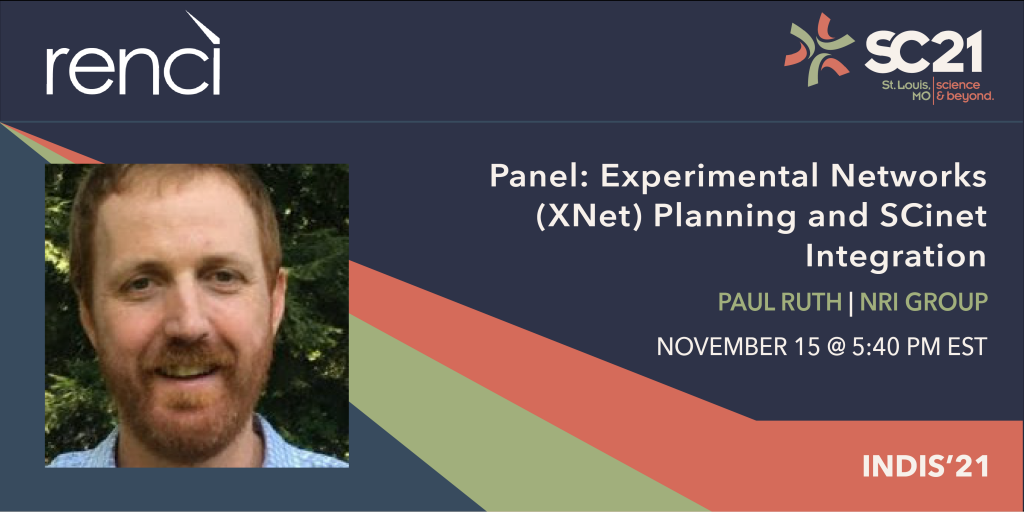 Panel: Experimental Networks (XNet) Planning and SCinet Integration
On November 15 at 5:40 PM EST, RENCI researcher Paul Ruth will participate in a virtual panel on experimental networks and the integration of Supercomputing's high-capacity network, as part of INDIS'21: 8th Workshop on Innovating the Network for Data-Intensive Science.
This workshop brings together network engineers and researchers to share challenges and potential solutions. Presenters will propose new and novel techniques that increase the capacity and functionality of scientific computing and wide-area networks. Learn more here.
---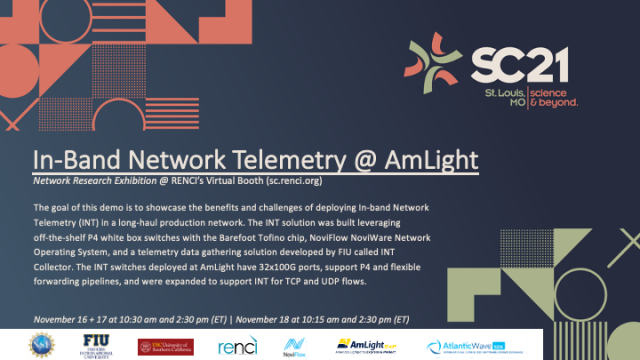 Demo: In-Band Network Telemetry @ AmLight
The cross-institutional Atlantic Wave-SDX team will host multiple demo and office hours sessions in RENCI's virtual booth. A recording will be available for download following the live demo.
The goal of this demo is to showcase the benefits and challenges of deploying In-band Network Telemetry (INT) in a long-haul production network. The INT solution was built leveraging off-the-shelf P4 white box switches with the Barefoot Tofino chip, NoviFlow NoviWare Network Operating System, and a telemetry data gathering solution developed by FIU called INT Collector. The INT switches deployed at AmLight have 32x100G ports, support P4 and flexible forwarding pipelines, and were expanded to support INT for TCP and UDP flows. Learn more here.
---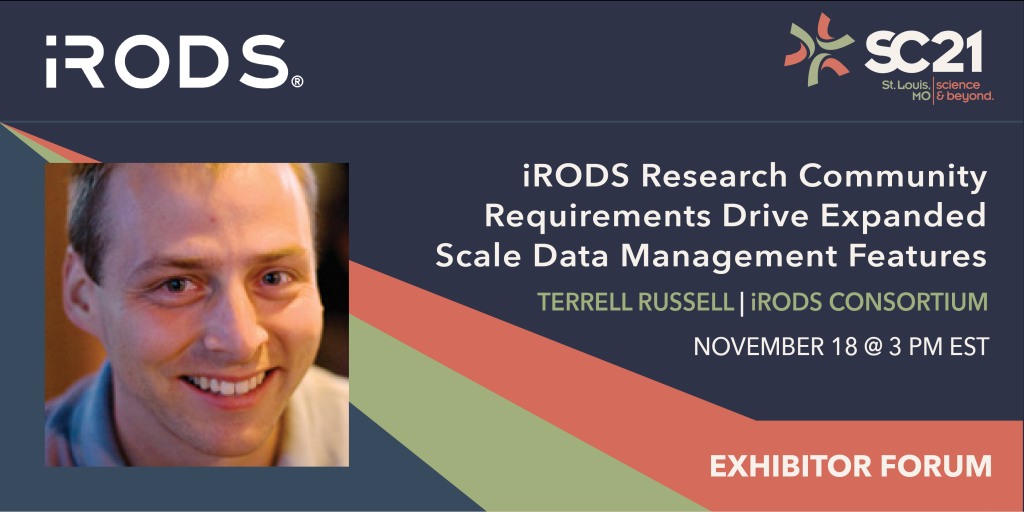 iRODS Research Community Requirements Drive Expanded Scale Data Management Features
On November 18 at 3:00 PM EST, iRODS Consortium Interim Executive Director and Chief Technologist Terrell Russell will speak about new data management features available to iRODS users and the growth of the Consortium, as part of the SC21 Exhibitor Forum.
Recent innovations as a result of community requirements will be discussed including graphical interfaces and methods to ensure data persistence and replication management. In addition, partnerships will be discussed with Globus and others to enable large scale collaboration. Today, worldwide, FAIR discovery and directed dissemination of HPC results are being accomplished in sites controlling tens of petabytes of data with this open-source technology. Learn more here.