Annual data science series returns via Zoom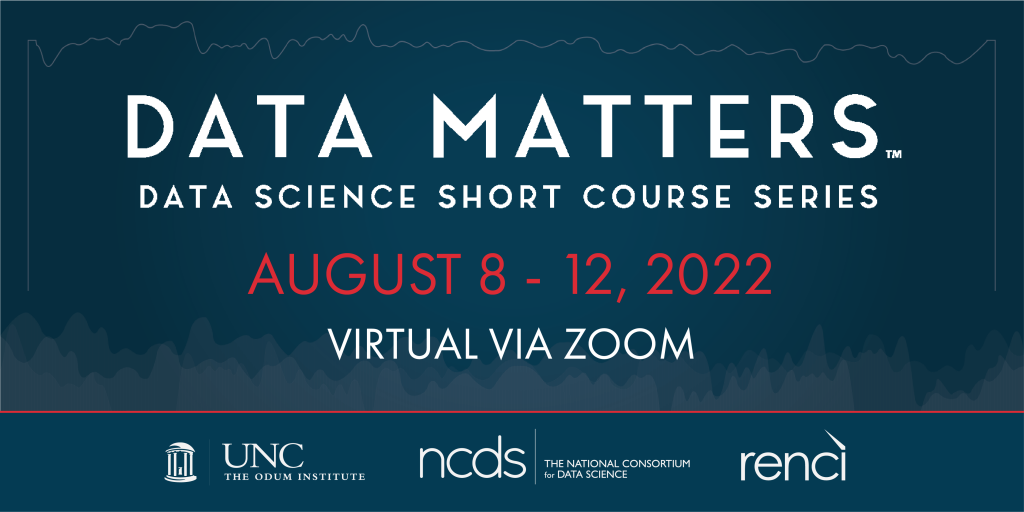 Now in its ninth year, Data Matters 2022, a week-long series of one and two-day courses aimed at students and professionals in business, research, and government, will take place August 8 – 12 virtually via Zoom. The short course series is sponsored by the Odum Institute for Research in Social Science at UNC-Chapel Hill, the National Consortium for Data Science, and RENCI.
In recent years, employers' expectations for a data literate workforce have grown significantly. According to a 2021 Harvard Business Review report, while 90% of business leaders cite data literacy as key to company success, only 25% of workers feel confident in their data skills. Data Matters helps bridge this gap by providing attendees the chance to learn about a wide range of topics in data science, analytics, visualization, curation, and more from expert instructors.
"With the increase of data science tools being used in sectors such as business, research and government, it is essential that workers seek out educational opportunities that empower them to address new challenges in their field," said Shannon McKeen, executive director of the National Consortium for Data Science. "Our short-course series has twelve courses that can be tailored to achieve individual data science goals, whether registrants are looking to refresh their knowledge or trying to learn something new in a welcoming, understanding environment."
Data Matters instructors are experts in their fields from NC State University, UNC-Chapel Hill, Duke University, Cisco, and RENCI. Topics to be covered this year include information visualization, deep learning in Python, exploratory data analysis, statistical machine learning and programming in R, and more. Among the classes available are:
Introduction to Programming in R, Jonathan Duggins. Statistical programming is an integral part of many data-intensive careers and data literacy, and programming skills have become a necessary component of employment in many industries. This course begins with necessary concepts for new programmers—both general and statistical—and explores some necessary programming topics for any job that utilizes data.
Overview of AI and Deep Learning, Ashok Krishnamurthy. Many key advances in AI are due to advances in machine learning, especially deep learning. Natural language processing, computer vision, speech translation, biomedical imaging, and robotics are some of the areas that have benefited from deep learning methods. This course is designed to provide an overview of AI, and in particular, deep learning. Topics include the history of neural networks, how advances in data collection and computing have caused a revival in neural networks, different types of deep learning networks and their applications, and tools and software available to design and deploy deep networks.
Introduction to Statistical Machine Learning in R, Yufeng Liu. Statistical machine learning and data mining is an interdisciplinary research area which is closely related to statistics, computer sciences, engineering, and bioinformatics. Many statistical machine learning and data mining techniques and algorithms are useful in various scientific areas. This two-day short course will provide an overview of statistical machine learning and data mining techniques with applications to the analysis of real data.
Geospatial Analytics Using Python, Laura Tateosian. This course will focus on how to explore, analyze, and visualize geospatial data. Using Python and ArcGIS Pro, students will inspect and manipulate geospatial data, use powerful GIS tools to analyze spatial relationships, link tabular data with spatial data, and map data. In these activities, participants will use Python and the arcpy library to invoke key GIS tools for spatial analysis and mapping.
Data Matters offers reduced pricing for faculty, students, and staff from academic institutions and for professionals with nonprofit organizations. Head to the Data Matters website to register and to see detailed course descriptions, course schedules, instructor bios, and logistical information.
Registration is now open at datamatters.org. The deadline for registration is August 3 for Monday/Tuesday courses, August 4 for Wednesday courses, and August 7 for Thursday/Friday courses.
---
About the National Consortium for Data Science (NCDS)
The National Consortium for Data Science (NCDS) is a collaboration of leaders in academia, industry, and government formed to address the data challenges and opportunities of the 21st century. The NCDS helps members take advantage of data in ways that result in new jobs and transformative discoveries. The organization connects diverse communities of data science experts to support a 21st century data-driven economy by building data science career pathways and creating a data-literate workforce, bridging the gap between data scientists in the public and private sectors, and supporting open and democratized data. Learn more at datascienceconsortium.org/.
The NCDS is administered by founding member RENCI, a research institute for data science and applications of cyberinfrastructure at the University of North Carolina at Chapel Hill. For more information about RENCI, visit renci.org.