Overview
Botany through Web 2.0 (or "Bot 2.0") was a 2-year project completed in April 2010.
The Bot 2.0 program used an innovative technological approach to help retain student interest in the biological and botanical sciences and address the lack of diversity in the student population pursing the botanical sciences. The project introduced students from universities and community colleges around North Carolina to a curriculum weaving together four key themes – botany, environmental conservation, the use of social technologies and metadata literacy.
Bot 2.0 held its first BotCamp in the summer of 2008 with a class of 14 students, and continued with a second camp in 2009. Students used digital cameras and camera phones to capture images of plants and trees in the field, then downloaded their photos to Web 2.0 social computing technologies similar to Facebook and YouTube. In the classroom, students used metadata tagging to classify each image.
Funding
National Science Foundation
Partners
Metadata Research Center, UNC School of Information and Library Science (SILS)
North Carolina Botanical Garden
UNC Herbarium
UNC Information Technology Services
Alamance Community College
North Carolina A&T
North Carolina Central University
North Carolina State University
Collaborators
Jane Greenberg, UNC SILS
Alan Weakley, UNC Herbarium, NC Botanical Garden
Project Team
Michael Shoffner
Links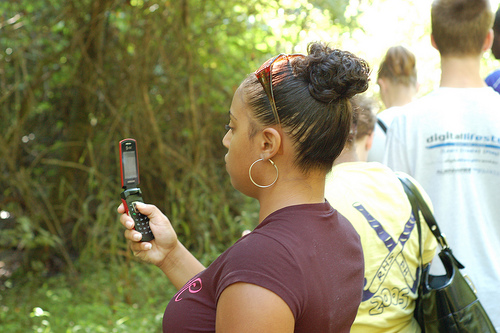 BotCamp participant uses a cameraphone to capture plant images during a visit to Mason Farm Biological Reserve.