Overview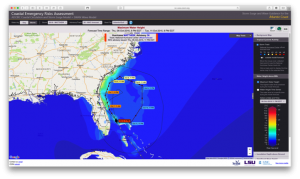 Storm surge, a primary cause of coastal flooding during tropical and extratropical storm systems, occurs when a storm's winds push water toward land. The water mass encounters shallower water as it moves toward shore and increases in height. Additional factors like a storm's pressure and the waves generated by storm winds also contribute to the total surge that impacts a coast.
RENCI's Earth Sciences and Software group conducts research into coastal hazards and risk through a suite of diverse yet synergistic projects, with nationally recognized subject matter experts. Collaborations with universities, federal agencies, and industry have resulted in research outcomes and applications that are advancing fundamental science as well as having substantive impacts on decision makers in coastal hazards and risk.
The primary computational tool is the storm surge and wind-wave model ADCIRC, co-developed at the University of North Carolina at Chapel Hill and the University of Notre Dame. ADCIRC is used for fundamental research in coastal oceanography, engineering and flood protection design studies, and for coastal hazard assessments for the Federal Emergency Management Agency's National Flood Insurance Program.