Overview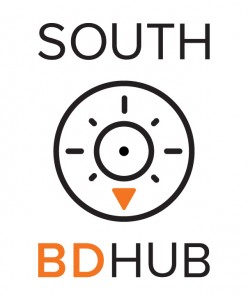 The South Big Data Regional Innovation Hub (South BD Hub), is one of four Big Data Regional Innovation Hubs established in 2015 by the  National Science Foundation (NSF). The BD Hub initiative aims to build innovative public-private partnerships that address regional challenges such as health care, habitat planning, and coastal hazards through big data analysis. Over the next three years, the South BD Hub will use $1.25 million in funding to establish a governance plan for long-term sustainability.
Hub projects will be organized into "spokes" that address regional challenges. Initial spokes of the South BD Hub will apply big data analysis to scientific and social issues in five areas:
Health Care, including disparities in health, access to health care, and health outcomes, precision medicine, and health analytics.
Coastal Hazards, including understanding and mitigating the consequences of natural and manmade disasters.
Industrial Big Data, including cyber-physical systems, the Internet of Things, data-driven management of physical infrastructure, and power generation, transmission, and distribution from a variety of sources.
Materials and Manufacturing, including data-driven contributions to the materials genome initiative and bridging the gap between materials science and manufacturing practice.
Habitat Planning, including urban infrastructure, smart cities efforts, transportation, rural-urban infrastructure, and wildlife habitat and conservation.
RENCI's Role
With dual locations in Chapel Hill and Atlanta, the South BD Hub is co-directed by RENCI and the Georgia Institute of Technology. As the governance structure is developed, RENCI will apply the lessons learned in developing the National Consortium for Data Science (NCDS), a public-private partnership to address big data issues launched in 2013. In addition, RENCI will leverage its expertise in technology and software development to manage big data sharing within the South BD Hub and collaboration with other regional hubs.
Funding
Project Team
Stan Ahalt, PhD, co-PI, RENCI
Srinivas Aluru, PhD, co-PI, Georgia Tech
Lea Shanley, PhD, co-Executive Director, RENCI
Renata Rawlings-Goss, co-Executive Director, Georgia Tech
Partners
Georgia Institute of Technology  (co-lead)
21 additional partners in the states of Alabama, Arkansas, Delaware, Florida, Georgia, Kentucky, Louisiana, Maryland, Mississippi, North Carolina, Oklahoma, South Carolina, Tennessee, Texas, Virginia, West Virginia and the District of Columbia.
Resources
South BD Hub website
Establishing a brain trust for data science